January 2023: CreditAccess Grameen has won the prestigious "Breaking Ground in WASH Financing" award at the Inclusive Finance India Summit 2022 held in New Delhi. The award was presented by Mr. V. Anantha Nageswaran, Chief Economic Advisor to the Government of India, and Mr. Hitendra Dave, CEO of HSBC India. Our MD & CEO, Mr. Udaya Kumar Hebbar, Deputy CEO & CBO Mr. Ganesh Narayanan, CFO Mr. Balakrishna Kamath, CAO Mr. Gururaj KS Rao, CRO Mr. Firoz Anam, CTO Mr. Sudesh Puthran, and Mr. Arun Kumar B, Head of Strategy, Innovation, and Analytics, received the award on behalf of the company.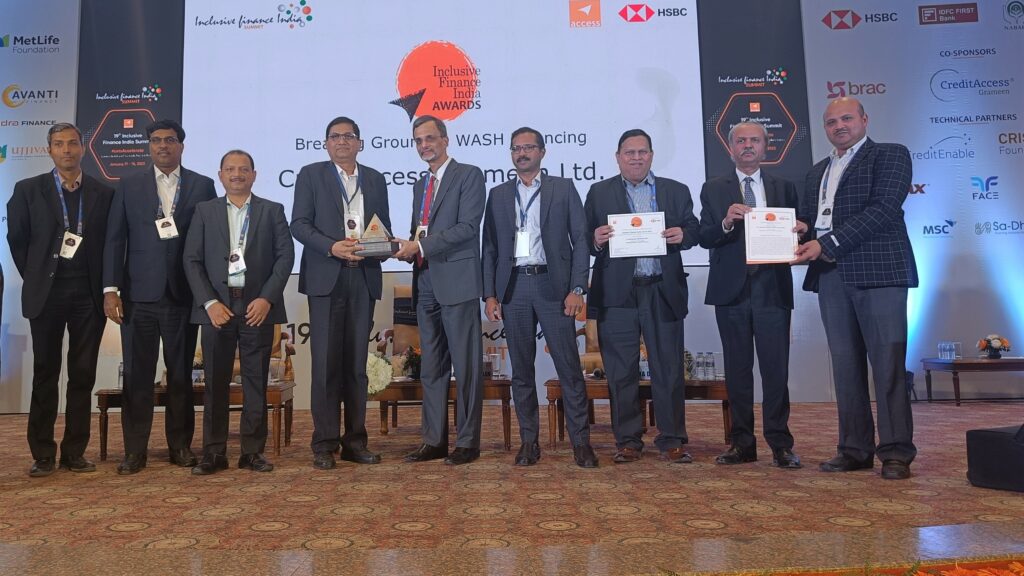 CA Grameen has been providing WASH-financing facilities for over a decade through doorstep, affordable credit services, and several awareness programs that we believe are important contributors to sustainable livelihoods and building resilient communities.
The Inclusive Finance India Awards, in partnership with HSBC, recognize and honor individuals and institutions that have indefatigably contributed to advancing the goal of Financial Inclusion and supporting Inclusive Growth!